Congratulations! You've finally secured your new home. All that saving, planning and packing has paid off. Hopefully, you'll find that your new place was worth the wait! In order to celebrate your achievement and to mark this new chapter in your life, why not throw a house warming party?
Whether this is your first home or your fifth – it's still a big step and making your new place feel like your own is just as important as completing all of the tedious legal tasks that come with a move. If you have children, hosting a house warming party can be a fundamental part of letting them know that moving to a new place should be a celebration, and should help them to settle in better.
Here is our guide to hosting a house warming party!
The Invitations
Invitations do not need to be expensive. It can be as simple as choosing a favourite family photo and designing an invitation using that on a programme such as Microsoft Excel. Or, if you're handy at crafts, you can have fun creating and personalising your own invitations.
Tip: If you have younger children; asking them to sketch a picture of their new home could make an effective and cute design for the front of your invitations. Simply photocopy their sketch and voila! Job done!
The Décor
Bunting and balloons are versatile and can be used to decorate indoor and outdoor spaces. You can also choose to theme your colours around the season, or to compliment your home's new décor. Pastel colours and shabby chic decorations are popular in the springtime.
Image: Credit to etsy.com
Your décor should match your personalities. If you enjoy a splash of colour in your life, why not opt for marble balloons? There are also light up and shaped balloons. The options are endless! Decorating should be one of the most enjoyable aspects of planning your party.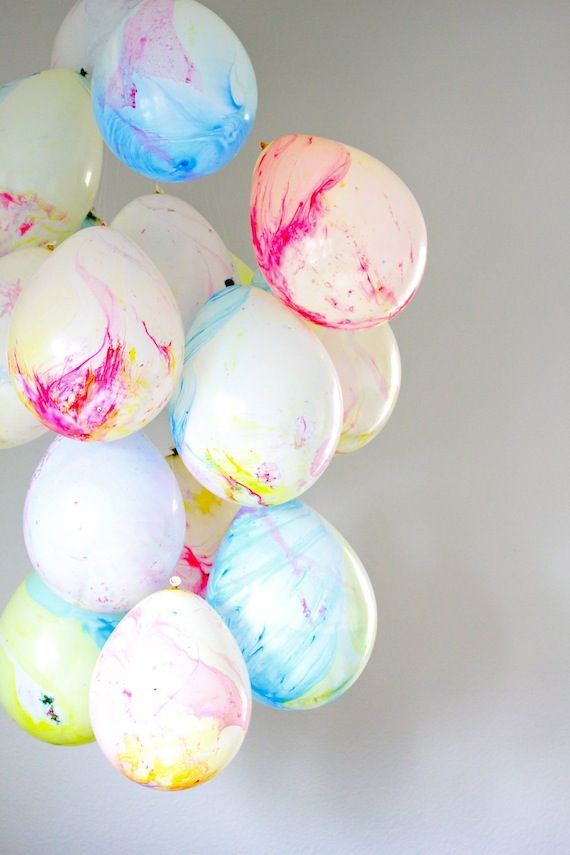 Image: Credit to pinterest.com
The Food
Moving house can incur a lot of mess and can at times be pretty chaotic. Keeping your party and party food simple is key, especially if you have more than a handful of visitors! Arguably the best party food would therefore be comforting food that could be made en masse.
Chilli con carne can be made as both a vegetarian and a non-vegetarian dish. Serve various accompaniments such as cheese, tabasco sauce, nachos, sour cream and guacamole. Such dishes can be frozen prior to the event, meaning they can be made in advance, giving you the chance to enjoy your party. If you're feeling a little more adventurous, a summertime BBQ is another popular option – weather permitting!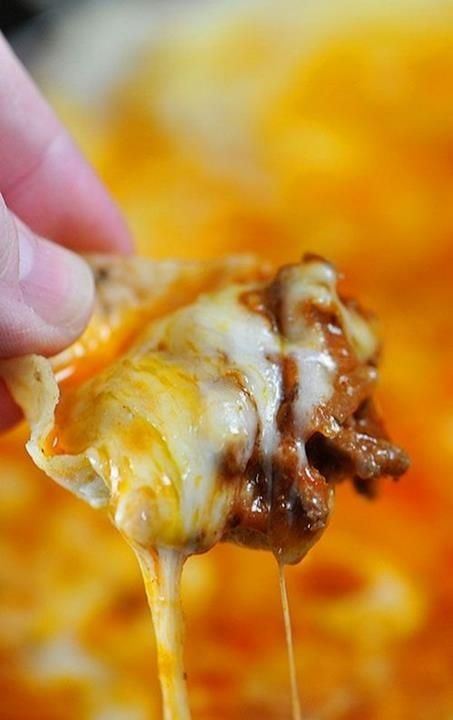 Image: Credit to pinterest.com
For a sweet treat, cupcakes can be made or bought and personalised to suit your home. For example, icing the number of your house on the cakes or creating mini envelopes with 'The Smiths' written with an icing pen will really make your party less generic and more themed to reflect your family and your new home.
Image: Credit to pinterest.com
Biscuits also make a nice alternative and can also be used as party favours. Cookie cutters are available in new house sets, giving you the option to create mini houses, doors, sold signs and other such shapes. Again, there is also the option to buy pre-made biscuits, which are usually individually wrapped.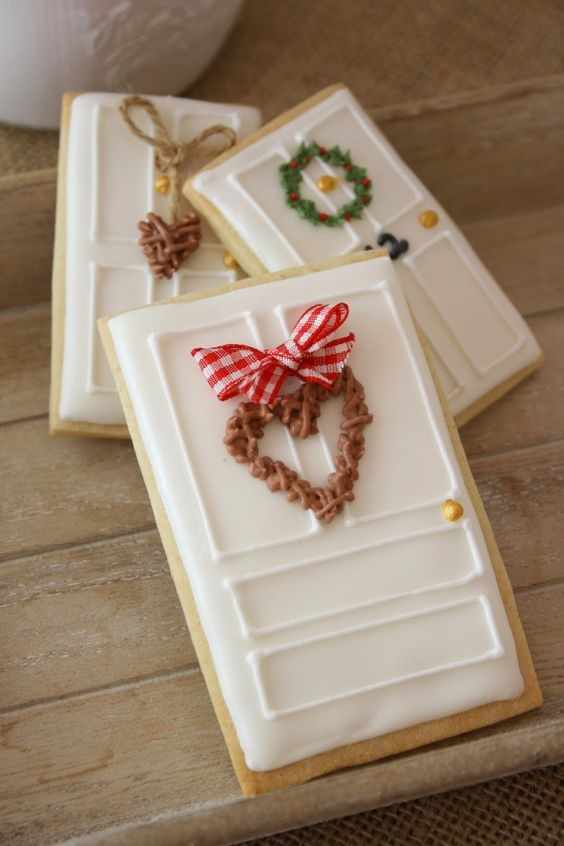 Image: Credit to pinterest.com
The Drinks
There is no need to splash out a great deal on alcohol or other beverages. Guests will understand if you opt for a 'Bring your own booze' party, as most new home owners are not rolling in cash. However, if you fancy getting your own drinks in, or want to do a half-way house (pardon the pun), you can personalise your drinks to mirror the occasion.
For example, with some low-cost parcel paper, you can wrap wine boxes and label them 'house red' or 'house white' respectively. This is a fun touch and works well when throwing a BBQ. If possible, hosting your party outdoors in your garden will reduce the chance of spillages on your new carpet or upholstery.
Image: Credit to pinterest.com
A nice wintry idea for adults is some warming hot chocolates. You can choose whether or not you want to add a liquor to make them that extra bit special. If not, marshmallows, cream and cinnamon sticks are another popular option. To help theme this super-indulgent drink with your party; mini gingerbread house biscuits and mini biscotti house biscuits are available for purchase which can be mounted on the lip of your mugs. The icing and sprinkles look truly festive!
Image: Credit to pinterest.com
A bottle of wine can also make for a nice memento from your housewarming party. With the use of a silver or gold paint marker pen (writes permanently on glass); have your guests sign their names and write a short message on the bottle for a classy keepsake.
Image: Credit to youandyourwedding.co.uk
Little Touches…
A mini wicker picnic basket and recipe cards can be a fun and quirky idea. You never know, you guests may come up with a new family favourite! However, with the younger generation especially, be prepared for joke recipes such as beans on toast to be added in with the others too!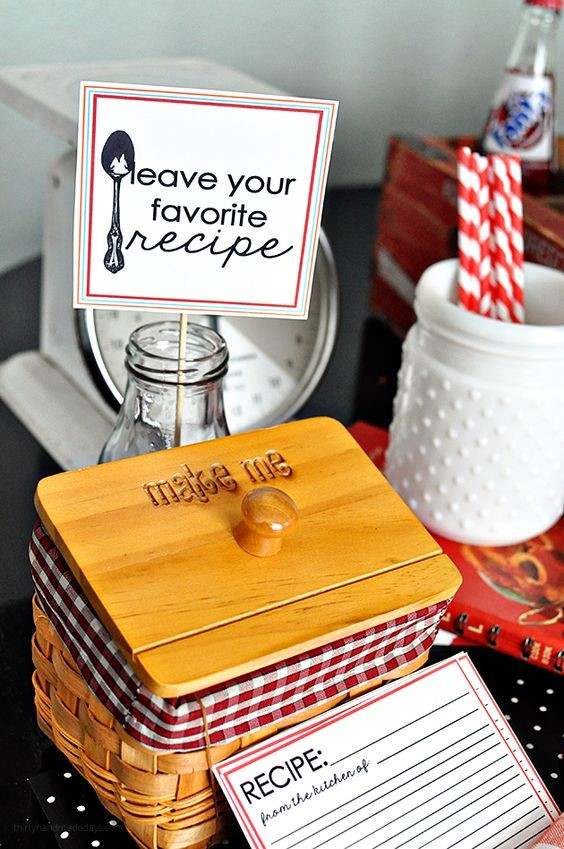 Image: Credit to pinterest.com
Party Favours
Usually guests will bring a gift when attending a house warming party. It may be nice to give a little something back in return on leaving the party. Children and adults alike usually love chocolate, so these mini, hand-wrapped paintbrushes could be the perfect treat for your guests. Adorned with colourful sprinkles, they're fun as well as tasty!
Image: Credit to cool-party-favors.com
Alternatively, bags of pop corn kernels with a label, 'thanks for popping by', is a cost-effective option and is equally fun too! Ensure that you check with parents before giving either of these two treats to children.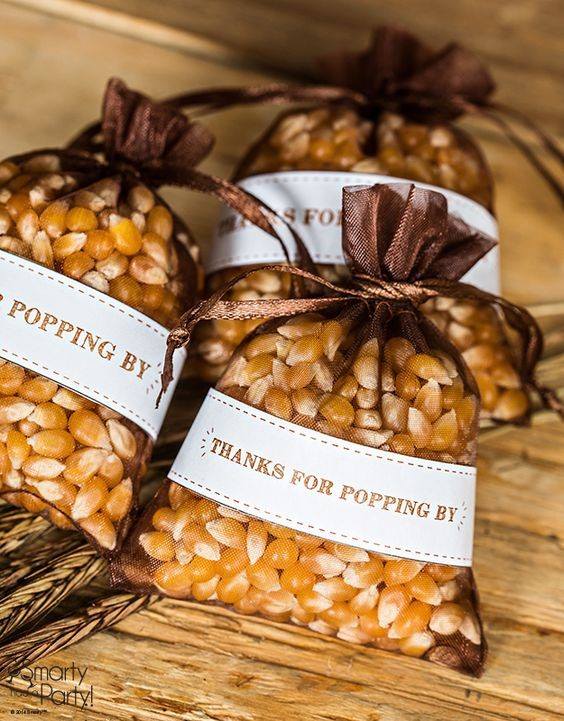 Image: Credit to pinterest.com
Finally, it is important that you relax, have fun and enjoy your party. Overloading yourself with too many party games, too much food preparation or cooking will mean that you are less likely to be able to destress from the move and catch up with friends. After all, they're there to see you, rather than your house!
Feature image: Credit to mominmemd.com